A Boost for Your Skin
I was recently asked how to make a natural exfoliating face scrub. This was not something I had done before and I was up for the challenge. Whenever I experiment with new recipes, I always test them out on myself first.
After experimenting quite a bit and trying different scrubs on my own face, I settled on a favourite that contains only three ingredients – coconut oil, sugar, and lemon essential oil. Coconut oil may sound a bit too greasy for your face, but I find that using the scrub right before a shower and then rinsing it off in the shower, leaves my skin feeling soft and supple but not greasy. The benefits of coconut oil are immeasurable. It keeps skin smooth to the touch and helps it to retain its moisture content. It also has strong disinfectant and antimicrobial properties. Additionally, it contains Vitamin E which is incredibly nourishing for the skin. The sugar, of course, is an exfoliant. I recommend using berry sugar rather than regular granulated sugar. You don't need to scrub very hard, just lightly on your face. The heavy hitter in this little recipe is the lemon essential oil. It is calming, astringent, detoxifying, and antifungal, to name only a few of its powerful properties. The number one thing that I love about this scrub is that it reduces the redness and blotchiness in my face.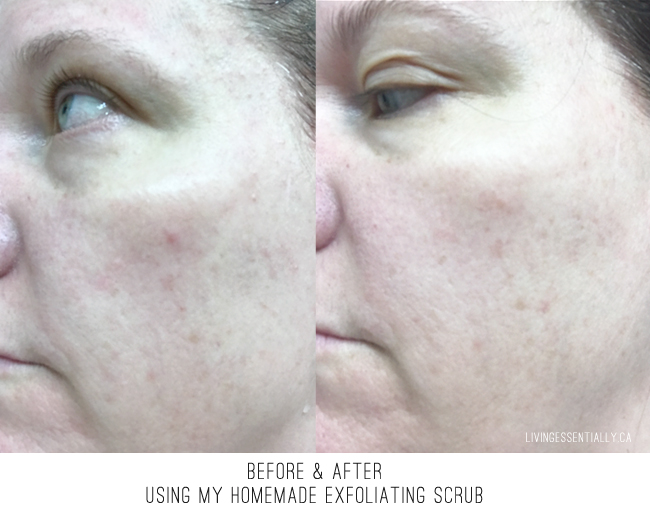 The recipe is below. Give it a try yourself!
~Sue
Lemon Coconut Oil Face Scrub
1/2 cup coconut oil
1 cup sugar
30 drops lemon essential oil
Place coconut oil in a microwavable measuring cup or bowl and microwave for about 30-45 seconds to soften. Then mix in sugar and lemon oil. The mixture should be more on the sugary side, so add a bit more sugar if it seems too oily to you. I store mine in small mason jars. This scrub does not need to be refrigerated.
Enjoy!