detoxify your home | chemical free living class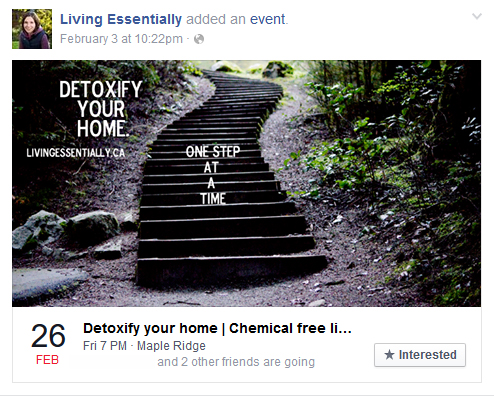 This is a copy of my facebook page event. If you are local and would like to come, please let me know:

One of my goals for this year is to change our home to a Chemical Free one the natural way. The change can be actually much easier than you think. Would you like to join me on my journey and learn how to do it?
I would like to invite you to come and learn with me on Friday, February 26th at 7pm. I will be hosting a Chemical Free Living Class in our home. This is great for anybody who is interested in learning the benefits of natural products and what Essential Oils can do for you and how they can help bring health and wellness into your life.
I am so excited to learn about this and thrilled that I have an opportunity to share this with you! I hope you can join me.
You are welcome to invite a friend. There will also be a couple of prizes to win throughout the night. It will be a fun way to get together and learn from each other. Please RSVP by February 20th so I have an idea as to how many I can expect to receive (and let me know if you have a friend you will be bringing) or if you can't make it but are interested, let me know to put you on the list for my next class.
Thank you. I hope to see you there!