choose your actions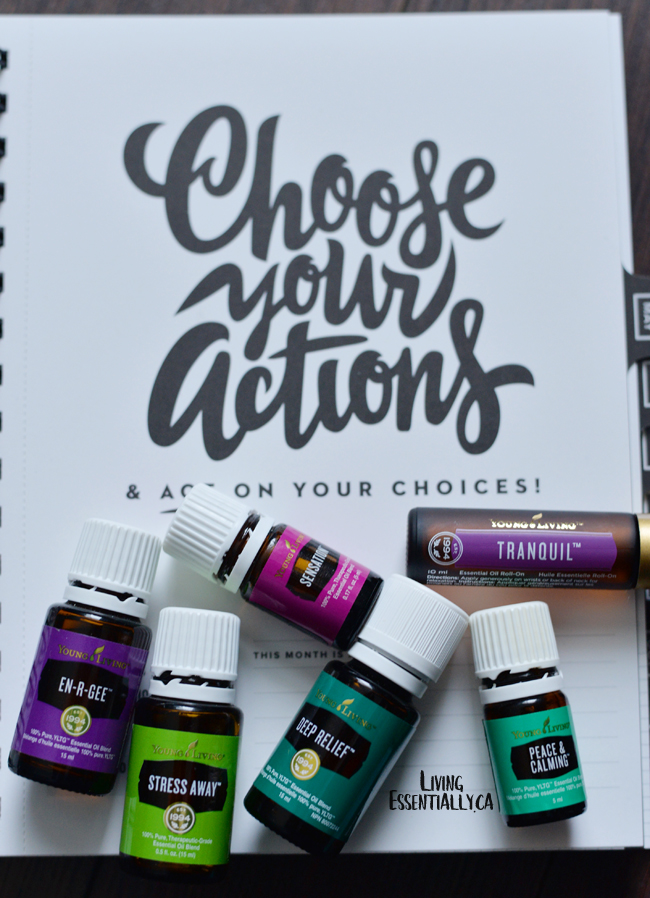 With 2016 coming slowly to its end,  every year I like to reflect and think about what the year has brought to us. Thinking about all the accomplishments of the year, the ups and downs of the past couple of months and take all of this in and start planning for the upcoming year.
Our family has started using Young Living essential oils in November 2015, so it's been over an year now and all I can say is that I'm so happy I've chosen this path for our family.  We've ditched all the regular chemical products in our household (soaps, shampoos, toothpastes, laundry detergent and cleaning products which were full of harmful chemicals) and started using natural products.
We have also stopped using painkillers for headaches, PMS symptoms, muscle pains and many more and started using essential oils instead.
I've treated burned skin and cuts with oils instead of grabbing creams from pharmacy.
Our kids never slept better before. Lavender, Cedarwood and lately Gentle baby oils are a part of their daily bedtime routine. They fall asleep much easier and don't wake up at night, stopped tossing in bed and even their teeth grinding is gone.
We haven't been sick during the year at all. Our kids got runny nose maybe twice this year and it was gone within two days. Once again, we just diffused essential oils at night and rubbed oils on their feet during the day. No more cough syrups and other over the counter stuff. Just plain natural treatment.
As I've mentioned so many times, we are a very active family and compete in road cycling, mountain biking, cyclocross, running and triathlon races. We've started using essential oils for improving our workouts and for speeding up our recoveries with a huge success! Even my husband is now a believer and is asking for a massage or what oil he should use after his exercise.
This year we have made own organic lip balms and hand/body lotions, bug sprays and air refresheners, candles and many more DIY projects.
Living healthy is a huge part of our family lifestyle, so it's only natural that the main goal for my family is to invest into our wellness not just by spending time exercising and eating healthy food, but also by making the right choices about what we are putting into and onto ourselves and living non-toxic life as much as possible. I encourage you to go to your bathroom or look under your kitchen sink and read all the labels on products you are using every single day. You will be surprised how many chemicals you will find and at the same time horrified because that's what we are using for our dear ones, our children, on ourselves. I went through this on my own as well, so I know what I'm talking about. Even though I always tried to make smart choices and go for the "natural" products, it wasn't until I've started doing my own research and found out how many products in stores are just marketed totally wrong.
Every year I choose one little word which I try to live through the whole year. For 2016 it was wholehearted and I can honestly say that in the wellness area, I put all my heart in and focused on making the change in my family. For upcoming year 2017 my one little word is awaken (from dictionary: to become conscious or aware of something <awoke to the possibilities>, to make active).
And here is one of many things which I would like to be aware of more, to be more active. My goal for the next year is to help as many people as possible to find their path to wellness and healthier lives. I would like to help YOU, yes You, who is reading this post at this very moment and show you how to live more naturally. And as a gift to you from me, if you decide to join me on this journey, I would like to help you started.
From now till December 31st, 2016 (10pm PST) , if you decide to join me and sign up for Young Living with me, I am offering you $15 off of your Premium Starter kit (which includes 11 essential oils, Diffuser, hand sanitizer and many more) or your choice of one of these two oils – Cedarwood or Orange. You won't get "just the oils", but you will become a part of an amazing group of caring people who will support you on your journey and will provide you with tons of materials and recipes to get you started.
Just leave me a comment here or send me an email and I will show you how to start.
Let's make the upcoming year better together and full of Energy, send all your Stresses away, live in Peace and calming state and having a Tranquil year full of Deep relief.