energy in a bottle
The last thing I wanted to do today, was getting on my bike and do my workout. Don't take me wrong, I love biking but it was late in the day, I was tired and the winds outside were picking up. Not the ideal conditions for a ride. On the way to my starting point, it started to rain. It didn't stop me. I've signed up for a Grandfondo ride which goes from Vancouver to Whistler (122km) and the training has to be done no matter what. So I braved the weather and went for it. I put EN-R-GEE on the back of my neck, put my helmet on and started pedaling.
Just within a few minutes, I was totally soaked but surprised that I didn't feel tired anymore. It seemed the En-R-Gee was working. En-R-Gee revitalizes with a blend of stimulating oils that have been used traditionally to help restore mental alertness. Uplifting and strengthening as the name suggests, it boosts energy. And it definitely does! The rain was getting heavier so I decided to turn back after 15km. When I was finishing my 25th kilometer, it suddenly stopped raining and the sun came out for the last 5km. How ironic!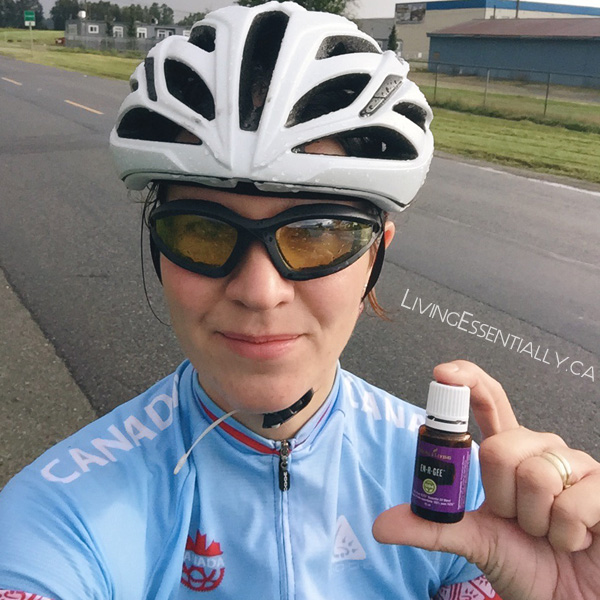 Well, the workout is done and I enjoyed a hot shower afterwards. I put some Thieves on my feet for boosting up my immunity and as a prevention for getting a cold, and a Lavender into diffuser for a nice relaxing evening.
Young Living oils came once again very helpful during the challenges of everyday life.