Ha. Here I am saying it out loud: I really enjoy cleaning lately.
I would never EVER thought that I will say this. But yes, lately I've been enjoying cleaning!
To be more specific, I think I can back date it to the day when I switched to natural cleaning and my new friend, Young Living's Thieves Household Cleaner,  arrived on our doorstep. This thing is MAGIC! You can use it almost on everything. I've been using it in a spray to do some "soft" cleaning at home for several weeks now but yesterday I moved to another level of cleaning. The deep one. The one everyone is always avoiding. The kind when something is built up and you can't take it off just by spraying some stuff on it. It always makes me laugh when I watch commercials for the regular (aka full of chemicals) cleaners when some lady just wipes off weeks of build up with one swipe without even putting any pressure on the cloth.  Yeah, this doesn't happen in real life.
BUT. You can get rid of the build up very easy and a natural way. Without breathing any toxins in. Without headaches. Without wearing gloves. Your kids can do it with their bare hands. Without flushing any toxins into drains and our rivers and ocean. Without scrubbing your sink or bathtub with wire sponges. The bonus? It smells AMAZING! (note to myself: Ok, ok, calm down, everyone gets that you are excited about this).
But yes, I love it so much!
On Friday I attended a Make & Take DYI class which was not just lots of fun but very informative as well. We made non-GMO scented soy candles (I'll post about it in a separate post) and then this simple yet very powerful soft scrub cleaner using my very good friend, Thieves. The bottle of this cleaner is so concentrated that it will last for months as you need only a tiny bit to mix with water or in this case with baking soda, vinegar, Dr. Bronner's soap, most of those you have probably at home already. I put a few drops of Jade Lemon essential oil as well into my scrub and it smells amazing.
Thieves Soft Scrub Cleaner:
3/4 cups baking soda
1/8 cup Dr. Bronners soap (liquid)
1 tbs Thieves household cleaner
1 tbs vinegar
YL essential oils (lemon, orange, thieves)
glass jar
Directions:
Mix baking soda, Dr. Bronners soap and Thieves cleaner in a glass bowl
Add vinegar and mix.
Add essential oils and mix.
Transfer go glass container for storage.
I took a few photos along the way so you can see the whole process.
This is our sink BEFORE I got on it with the Thieves Soft Scrub cleaner (you can watch this video to see how to make it)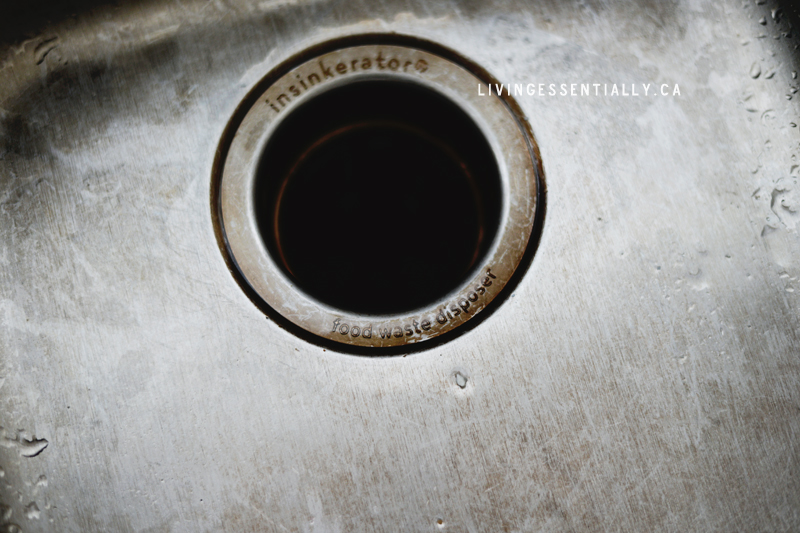 I told ya, you can use your bare hands to handle this thing…
At this point I just rubbed it on with my fingers and you can already see that the ring is half way clean.
I used cloth for cleaning the of whole sink, nothing else. No scrubby sponges or anything.
Here is the sink plug before its makeover. The ring and sink have been already cleaned.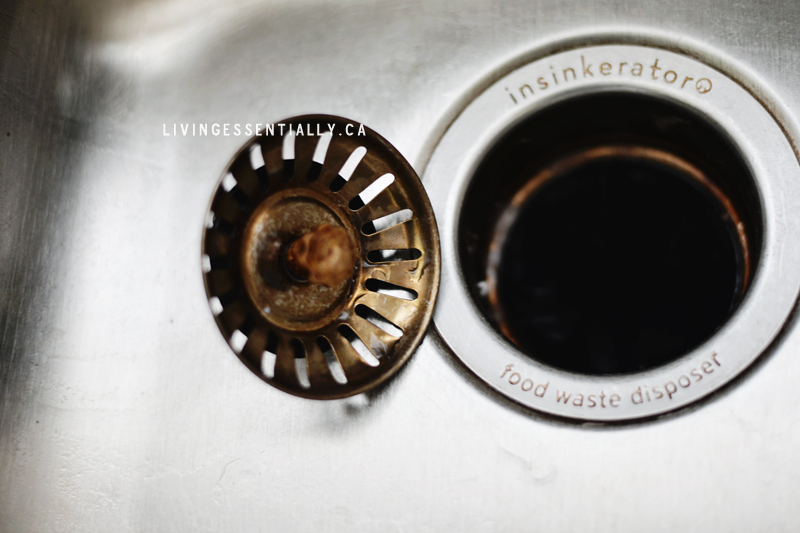 And here is the sink plug after (the top part is plastic and if I really wanted, it would be probably white but I'm ok with this for now), perfectly matching his friend, the sink ring, both shiny and clean now.
And here are the two little helpers who were involved in this cleaning session.
So? What you think? I personally love it. Natural and it works perfectly. And my kitchen smells amazing now!
If you have any questions or would like to have a little helper as I do, please don't hesitate to contact me. I can help you to switch to the natural way. And you will never look back, trust me.