changing toothpastes
I think I don't have to tell you how excited I am every month when my monthly order from Young Living comes in. I'm still at the beginning of my journey of switching to more natural products so it's been a lot of firsts in the last couple of weeks for our family. This photo above shows my order for March – two toothpastes, V-6 vegetable oil, Mirah (shaving oil – it's amazing, btw) and some oils. So let's talk about the two toothpastes today.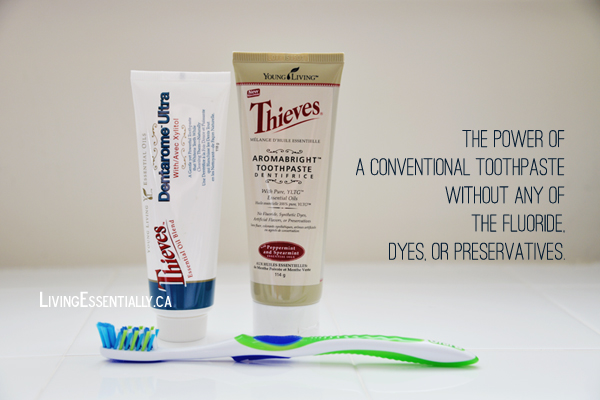 If you do your own research about ingredients of conventional toothpaste, you will find that not everything included in it is good for your health. Some of the information about triclocan and fluoride are actually quite alarming! So yes, it's up to us what we choose to use. And our family choice are these two above. We have been using these toothpaste for almost three weeks and everyone loves them. Yes, they taste different than a "regular" toothpaste, don't foam as much (which none of us has found to be a problem) and they leave your mouth feeling so clean!
Thieves AromaBright Toothpaste
This premium, all-natural toothpaste is made with pure essential oils, including the cleansing benefits of Thieves essential oil blend. Its safe and effective formula provides a fortress of support for healthy looking gums, clean teeth, and a confident smile. It is the optimal choice for health-minded consumers. Essential oil favorites such as Peppermint, Spearmint, and Cinnamon Bark also give this toothpaste a sweet mint flavor, meaning you don't sacrifice anything with AromaBright. You'll ditch the ingredients you don't want and keep all the results you do: a deep clean, bright teeth, and fresh breath.
Thieves® Dentarome Ultra Toothpaste is an advanced formula of all-natural ingredients that gently cleans and whitens your teeth while harnessing the power of pure Thieves essential oil blend for fresh breath. Dentarome Ultra is preferred by those concerned with appearance of whiter teeth. Dentarome Ultra also has a great taste. Its formula includes Young Living's Thieves blend—with essential oils such as Clove, Cinnamon Bark, and Lemon—along with Peppermint, Thyme, and Wintergreen for a fresh, minty flavor.
Well, I don't know about you, but we are switching toothpastes to more natural ones. The basics of a healthy smile is a mix of proper technique of brushing, flossing, right toothpaste and avoiding sugar as much as you can.
If you want to learn more about Young Living's products, please don't hesitate to leave me a comment or contact me through email (contact me tab on the top of this page). I would be happy to answer all your questions.