I think I can honestly say that a product made with thieves oil, is in every single room in our house. We use Thieves oil in our hand foaming soaps, in air sprays, we brush our teeth with thieves,  fighting against colds with homemade roll-ons and of course, we diffuse it.
We do laundry with thieves, use it for washing the dishes, cleaning around the house, while traveling… I can't imagine our everyday life without thieves any more!
Especially now with back-to-school being just behind the corner, we are embracing on boosting our immunity and getting ready to fight the germs in a natural way.  As I mentioned several times already, last winter was our first full winter using Young Living essential oils and we avoided being sick, didn't have to use any over-the-counter cough/cold/fever medicine and we even skipped the cough syrup. It was our healthiest winter ever!  And I really believe that's because we went natural and started using YL oils and products.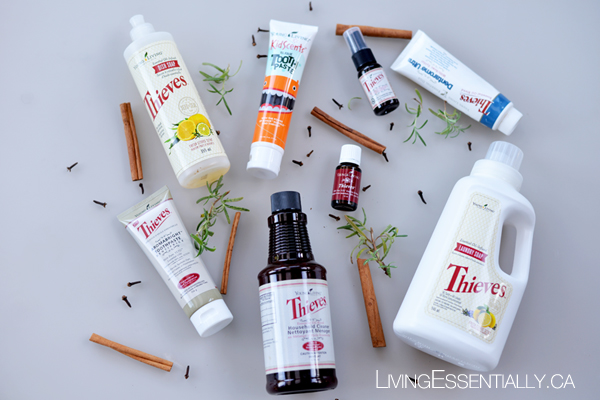 So what is so special about this blend and why is it so awesome? Thieves is the most amazing blend of highly antiviral, antiseptic, antibacterial and anti-infectious essential oils.
It was created from research based on legends about a group of 15th-century thieves who rubbed oils on themselves to avoid contracting the plague while they robbed the bodies of the dead and dying. When apprehended, the thieves were forced  to tell what their secret was and disclosed the formula of the herbs, spices, and oil they used to protect themselves in exchange for more lenient punishment.
The Thieves blend is a mix of clove, lemon, cinnamon bark, eucalyptus radiata and rosemary. It really smells amazing!
In the upcoming posts I will show you how we use this blend in our everyday life and around the house. If you have any question, please don't hesitate to send me a message or comment on this post.