no more headaches & a giveaway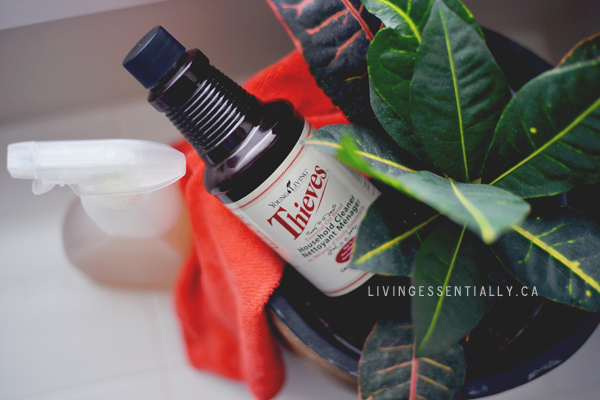 Raise your hand if you like cleaning bathrooms and kitchen. I bet there isn't a lot of you (me included).
I've always been sensitive to smells and just the idea of cleaning a bathroom was a nightmare for me. I always ended up with a terrible headache caused by the commercial cleaning products and even though wearing gloves, my skin was irritated.
Few weeks ago I tested my new natural (plant based) household cleaner – Thieves from Young Living. Thieves® Household Cleaner is an allpurpose, concentrated cleaner formulated with 100 percent plant- and mineral-based ingredients. Thieves Household Cleaner is biodegradable and complies with EPA standards.
After cleaning 2.5 bathrooms without gloves there was no skin issue nor a headache at all. And it smells amazing!

My daughter uses it on wiping our kitchen counters when she decides to help so it's safe for kids too and I am not afraid that she will be exposed to harsh chemicals.

I don't think that I will ever be excited about cleaning the bathrooms or counter tops or anything in the house (hey, there are more fun things to do than cleaning, right?!) but at least I will do it the safer way without headaches, breathing toxins in or freaking out that my skin will be irritated and cracked once again.

This one is definitely a keeper!
This little bottle is 426ml and it will last you for a very long time. Because it is highly concentrated, you need just a little amount which you dilute with water:

for most cleaning applications: 30 parts water to 1 part cleaner (my spray bottle is 500 ml so I use only little bit over 1 tablespoon of Thieves for the mix)
for heavy decreasing: 15 parts water to 1 part cleaner
for light decreasing: 50 parts water to 1 part cleaner
for glass: 50 or 100 parts water to 1 part cleaner
If you do the math, with the 426ml bottle of Thieves cleaner you can make about 26-28 of the 450ml bottles of mix for regular everyday cleaning!
I thought that it would be fun to give away some pre-mixed samples so you can try it too. I'm giving away 4 x 450ml spray bottles (2 from comments on the blog and 2 from facebook comments) filled with mixed water and the thieves household cleaner (for a regular cleaning – the ratio for the most cleaning applications as mentioned above).
So for LOCAL PEOPLE ONLY (Pitt Meadows/Maple Ridge/PoCo/Coquitlam/Langley/Port Moody – an easy driveable distance for me to drop the gift off) :
if you would like to try this mix, please comment here before next Friday, February 12th  – 8pm PST
for more chances you can comment as well on my Facebook page
and will announce the winners next Saturday
Good luck!