THIS IS HOW WE ROLL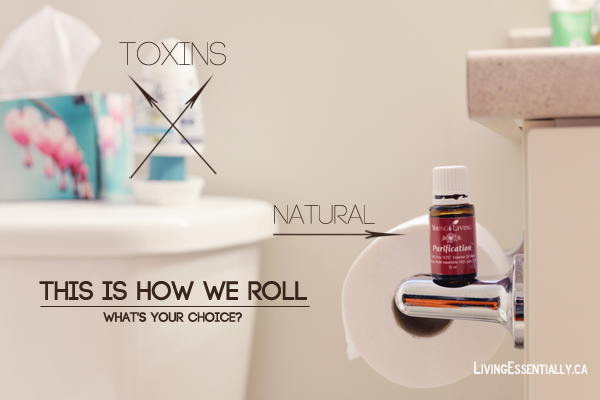 Ok. I have to admit that I have forgotten one thing while getting rid of the toxins in our home…
The air refreshener (crossed out on the photo above) was hidden behind the toilet. The top was covered with dust, it didn't "smell" anymore and it just looked gross. I pulled it out to just take a photo of it and it went straight into garbage. Just looking at the ingredients makes you wonder; what exactly SCJ formula #35*14785 means? And what about the Dye and Fragrance? Do you know that's in it? Artificial fragrances are definitely on the Dirty Dozen list which we teach in our classes.
To be honest, how many of you have those in your bathrooms? Well, not us anymore. As I really do care about the health and wellness of my family.
You are probably asking so what do you use for air refreshing? We use our homemade air sprays, which are safe to breath in,  and just recently started using this very simple trick which was recommended to me by the awesome ladies in our oil community. Put a few drops of your favourite essential oil into the inside of your toilet roll and every time you roll the paper, the amazing smell will get released into the air. How awesome and simple is that?
We use Young Living's oils  at home because I trust this company for many reasons I've mentioned already in my other posts;  but the main thing is their Seed to Seal process. So far I've tried Purification in our downstairs bathroom, Citrus Fresh in kids bathroom and Northern Lights in our master bathroom.
So next time when you want to refresh your bathroom or any room at home, just think what you use and how it effects your health.